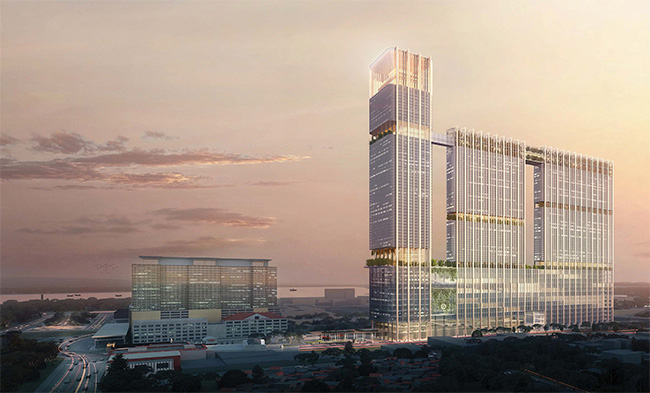 Rationale of Naga 3
The existing NagaWorld complex of Naga 1 and Naga 2 is reaching full capacity, with above 80% room occupancy prior to the effects of COVID-19 pandemic. NagaCorp Ltd. ("the "Company" and together with its subsidiaries, the "Group") has decided to develop Naga 3 (costing US$3.5 billion), which will be situated a stone's throw away from the current premises. With the expected completion in 2025, Naga 3 will increase the capacity of the Group by at least two times. It is currently expected that the combined NagaWorld complex of Naga 1, Naga 2 and Naga 3 will have about 5,000 hotel rooms, 1,300 gaming tables and 4,500 electronic gaming machines and many other non-gaming attractions, and is expected to be one of the largest integrated entertainment complexes in the world. The Company believes that the launch of Naga 3 is not only timely, but also the answer to meet future demand and a surer way to continue the Group's journey of earnings growth, especially after the recent successful ramping up of Naga 2.
Update on Naga 3
The Naga 3 conceptual design work has been fully completed. The subsequent design development work was handled by a team of experienced consultants consisting of Steelman Partners (a global leader in gaming and entertainment design), Jacobs Engineering Services Sdn. Bhd. (Civil and structural consultant, one of the world's largest engineering firms), DRTAN LM Architect (Architect-of-Record), KWA Consult Sdn. Bhd. (Mechanical and electrical consultant), ELP Quantity Surveyors Sdn. Bhd. (Quality surveyor consultant).
The following are brief progress updates:
a) Soil Improvement Work – Soil improvement work of 4m wide by 292m long along the western boundary has been fully completed by way of more than 1,000 deep soil mixing columns and almost 4,000 tons of cement being injected into the ground to strengthen the existing soil; the main objective of the soil improvement work is to minimize settlement risk to the row of existing shops during the diaphragm wall and bored pile construction. Both large deep soil machines and the associated cement silos have been fully demobbed from the construction site, freeing up space for the operation of 2 diaphragm wall machines and the steel cage fabrication yard.
b) Diaphragm Walls – The diaphragm walls have been fully completed at end-January 2022 as planned, diaphragm wall machinery and associated support facilities shall be demobbed from construction site, freeing up space for bored piling operation and basement construction.
c) Bored Piles – Overall bored piling work is approximately 50% completion, two of the most critical areas within Tower 1 and Tower 3 nearing completion, allowing basement construction work to commence in December 2021. Three numbers of bi-directional load test have been completed with satisfactory results. Presently there are eight boring rigs constructing the bored piles on site and 2 teams constructing the basement works.
d) Wind Tunnel Study – The wind tunnel testing for the wind induced structural study has been completed with satisfactory results. The second part of wind tunnel testing for the façade cladding, human comfort and pedestrian wind comfort study will be carried out in 1Q2022.
e) Pandemic and Vaccination – Construction progress was slightly impacted by the sudden Phnom Penh lockdown, curfew and inter provincial/district travel restrictions. With the disruption of cement/concrete/steel supply and shipping logistics delays, additional measures have been added to catch-up on lost time. The construction site is enforcing very strict measures to prevent COVID-19 infection. All construction workers and management staff have been fully vaccinated, included booster vaccine; only fully vaccinated construction workers, sub-contractors, suppliers, etc. are allowed to work and enter the construction site.
f) Design Development Work – Design development work is ongoing and the contract documentation for main building work package is on schedule to be completed by 1Q2022. The target commencement of main building work package shall be first half of 2023, after the foundation, basements and ground floor have been completed and progressively handed over to main building work contractor.