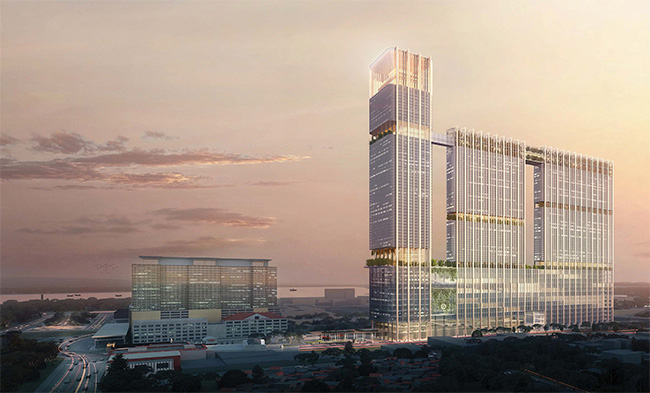 Rationale of Naga 3
The existing NagaWorld complex of Naga 1 and Naga 2 is reaching full capacity, with above 80% room occupancy on a regular basis. As such, NagaCorp Ltd. ("the "Company" and together with its subsidiaries, the "Group") has decided to develop Naga 3 (costing US$3.5 billion), which will be situated a stone's throw away from the current premises. With the expected completion in 2025, Naga 3 will increase the capacity of the Group by at least two times. It is currently expected that the combined NagaWorld complex of Naga 1, Naga 2 and Naga 3 will have about 5,000 hotel rooms, 1,300 gaming tables and 4,500 electronic gaming machines and many other non-gaming attractions, and is expected to be one of the largest integrated entertainment complexes in the world. The Company believes that the launch of Naga 3 is not only timely, but also the answer to meet future demand and a surer way to continue the Group's journey of earnings growth, especially after the recent successful ramping up of Naga 2.
Updates of Naga 3
The Company has appointed Chicago-based Skidmore, Owings and Merrill in addition to Las Vegas-based architect planner, Steelman Partners, to create a truly regional world-class comprehensive integrated entertainment complex which shall compete with regional peers in the Asia Pacific region. The Group will continue the development of Naga 3 and the following are brief progress updates:
a) Soil Resistivity Test – completed 11 points of soil resistivity test throughout Naga 3 development site. Test results passed on to M&E consultants for evaluation and optimization of earthing system design. Faraday Cage Lightning Protection System has been incorporated with the building design to safeguard structural safety and integrity from the risk of lightning strike.
b) Soil Investigation – 33 soil investigation bored holes of varying depth of 47-81 meters have been fully completed. Rock samples have been sent for further testing to ascertain rock hardness. Additional soil investigation (3 bored holes to 70-80m deep) has been commissioned to ensure adequate design safety margin.
c) Piling and Basement – site preparation work has started, and expect piling work to commence in 1Q2021. The construction period for piling and basement is expected to take 30 months, allowing 6-12 months head start for super-structure works. The basements of Tower 1, Tower 2 and Podium are designed for top-down construction, which is expected to shorten the overall construction period to less than 30 months and to minimize soil settlement risk of surrounding buildings.
d) Wind Tunnel Study – the wind tunnel testing shall be carried out as and when the preliminary structural framing design, architecture and curtain wall are completed. Structural engineer has completed the 3D building structural framing analysis, whereby structural deflection under wind load is within the required design limit.
e) Naga 3 Built to Withstand Earthquake up to Richter 6 – although Cambodia is not sited within the ring of fire and is free from earthquakes, consultants designed Naga 3 to withstand earthquake measuring 6 on the Richter scale as a precautionary measure. In 2016, the central province of Quang Nam Vietnam was hit by two earthquakes measuring between 3.1 and 3.4 on the Richter scale, according to a statement by the Institute of Geophysics Vietnam.