SUPPORTING OUR COMMUNITY
At NagaWorld, we are committed to being a socially-responsible company that strives for positive and sustainable change amongst our stakeholders, including the wider community. As part of the social fabric of Cambodia, we believe we only thrive as our communities prosper in the long run.
We are the first foreign-invested private company in Cambodia and the country's largest private sector company in the region. Since the inception of our business in 1995, NagaWorld has been steadfast in supporting and collaborating with our community partners and the public sector, especially during times of crisis such as the COVID-19 pandemic.
As we look ahead into the future, we remain committed to identifying the needs of our communities and to generating positive and sustainable impacts on our communities and the environment.
NagaWorld Kind Hearts
NagaWorld Kind Hearts was established with a mission to develop Corporate Social Responsibility ("CSR") projects that give back to the community and empower our employees through volunteerism. We aspire to foster the belief that their contribution counts – even if it is the smallest of things.
Since 2014, NagaWorld Kind Hearts has amassed a community of employee volunteers dedicated to giving back to our society. Its programmes are driven by four purposeful pillars:

Education Enhancement
Community Engagement
Sports Development
Environmental Care
To date, NagaWorld Kind Hearts has benefited more than 496,540 children and members of the community. Alongside this, several charitable donations and in-kind community contributions made by the Group that fulfil our CSR focus areas in Cambodia during the Year totalled US$2.2 million.

1. Education Enhancement
Stationery Set Distribution
Launched in 2014, our educational project of distributing stationery sets has benefited over 167,000 children from over 115 primary schools in 12 provinces/cities in Cambodia. These contributions help to shoulder the cost of educational necessities for students who are unable to afford them. In 2022, more than 25,500 students from 60 primary schools received writing books and pens. Students who excelled at the top of their class also received new school bags.

Fire Safety Awareness
To raise awareness about fire safety amongst school children and local communities, we partnered with the Ministry of Education, Youth and Sport to conduct fire safety classes at schools. Organised by NagaWorld Kind Hearts and our Fire Safety Department, we also donated fire extinguishers for their homes and to the schools. Essential real-world fire safety and prevention techniques were imparted, including how to operate a fire extinguisher. The fire safety classes saw 24,016 participants at secondary and high schools across five provinces in Cambodia. A total of 85 fire extinguishers were donated in all, including six fire extinguishers for the communities.
Children@Risk Programme
Through the Children@Risk programme, NagaWorld Kind Hearts has been providing children from impoverished backgrounds with financial aid to cover their expenditures – including food, study materials and daily living needs. This programme is a collaboration between NagaWorld Kind Hearts and Cambodia Outreach, a non-governmental organisation ("NGO"). Together with donations from NagaWorld employees, we supported 10 children from marginalised communities to complete their high school education.
In August 2022, we provided six young adults with internships at NagaWorld to learn vocational skills.
Digital Literacy Rural Upliftment
Our IT staff volunteers provided IT training courses to two NGOs that support marginalised children. We also donated desktop computers which will enable the children to continue their learning and improve their computer skills.
As of 2022, we have donated 87 computer sets which benefited close to 3,000 children from 11 NGOs/communities.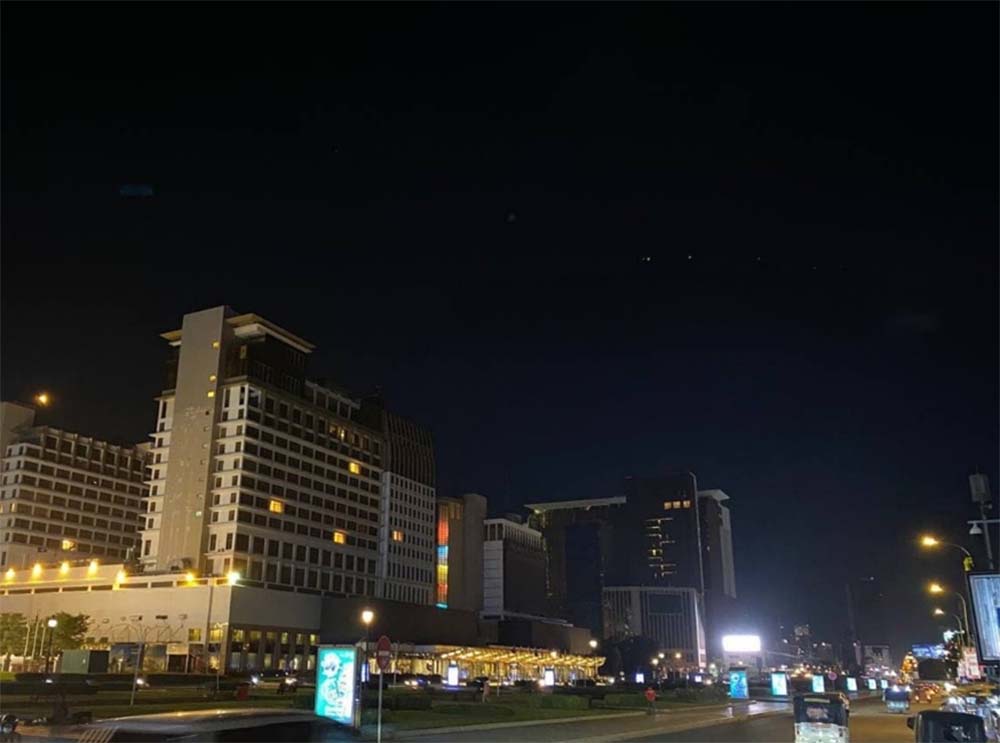 Give the Gift of Reading
To share the gift of reading and promote learning among children, we organised an internal book donation drive for employees, and their families and friends, to drop off pre-loved school textbooks and reading materials. These books were donated to children from marginalised communities. Apart from leaving a book, employees can also exchange any book for their children to read. Over 320 books were collected since the programme's launch in August 2022.
2. Community Engagement
Community Farming in Ang Snuol District
NagaWorld Kind Hearts, together with Naga Farm, launched a community farming programme with selected farmers in the Ang Snuol district, Kandal province. The initial programmes launched include a vermiculture project and a vegetable seed distribution initiative.

Cambodian Red Cross
The Cambodian Red Cross is the largest NGO in Cambodia and is officially recognised by the Cambodian Government as the primary auxiliary for humanitarian services throughout the country. Apart from contributing to nation-building, NagaWorld has been a longstanding contributor to the Cambodian Red Cross – giving back to the community and working toward building Cambodia's social welfare.
Bears of Hope
We support the Bears of Hope initiative – a collaboration with Cambodia Knits and Free the Bears Cambodia to create free and fair employment opportunities for women and support wildlife conservation respectively. Available at our NagaWorld Souvenir Store, a dollar from every knitted bear sold is channelled to wildlife conservation and animal welfare at Free the Bears Cambodia.
3. Sports Development
Supporting National Sports Excellence
NagaWorld is a longstanding corporate supporter of Cambodian athletes. We were the first company to sign a sponsorship agreement with the National Olympic Committee of Cambodia ("NOCC") to support the Cambodian contingent in 2011. In 2019, we extended the partnership agreement with the NOCC for another four years to honour Cambodian athletes' successes at major international sporting events, including the 2019 Southeast Asian ("SEA") Games in the Philippines, the 2020 Tokyo Olympic Games and the 2022 SEA Games in Hanoi.
At the 2022 SEA Games held in Hanoi, a record number of over 700 athletes, coaches and officials representing Cambodia attended the event. Cambodia achieved its best medal haul in recent history with a record of 9 Gold, 14 Silver and 41 Bronze medals. Under NagaWorld's "Go For Gold" scheme, a total of US$88,000 was awarded to athletes, coaches and NOCC for achieving the Gold medals.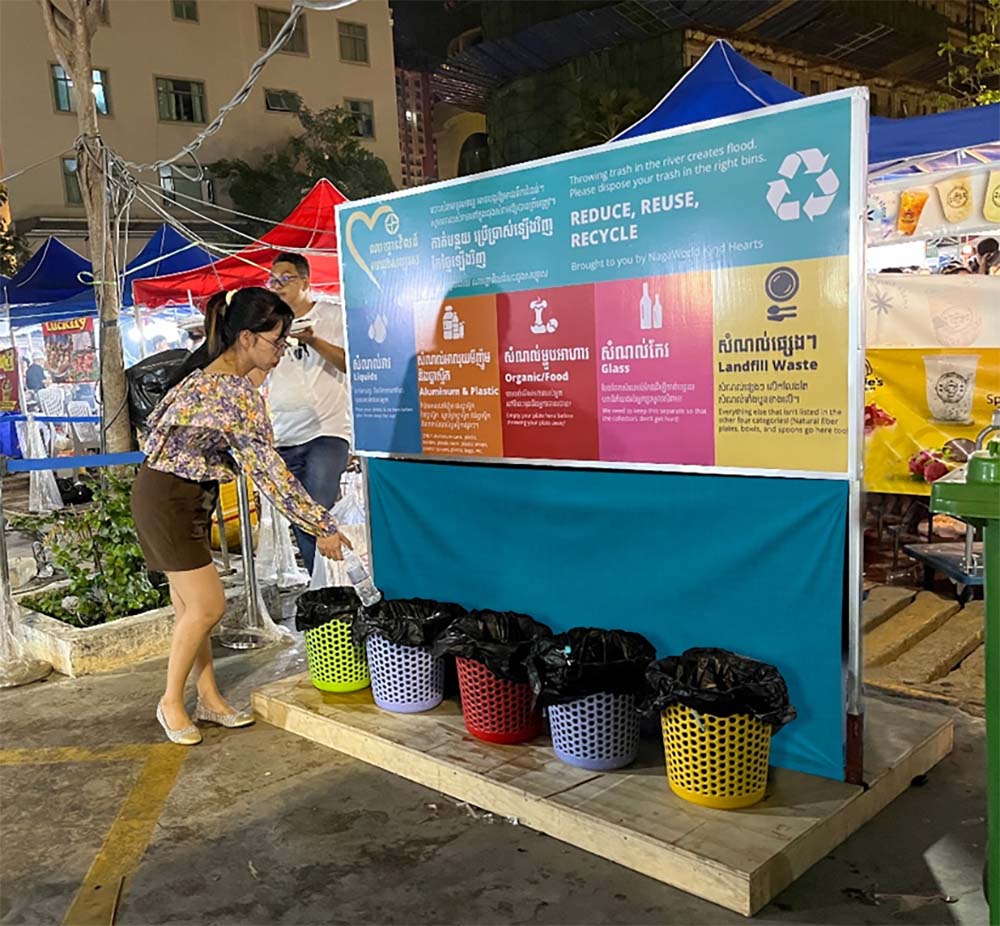 2022 ASEAN Para Games
The 11th ASEAN Para Games is a biennial multi-sport event for athletes with physical disabilities in Southeast Asia. Held from 30 July to 6 August 2022 in Surakarta, Indonesia, NagaWorld's sponsorship of nearly US$31,000, including charter flights, promoted the development of this sports genre in Cambodia – in collaboration with the State Secretariat for Civil Aviation under the Cambodian government.
#WeThe15
To commemorate the International Day of Persons with Disabilities and the launch of #WeThe15 Cambodia, NagaWorld's outdoor LED screen was lighted in purple, the international colour for disability, on 3 December 2022.
NagaWorld Football Club
NagaWorld Football Club ("NagaWorld FC") is one of the founding clubs of the Cambodian Premier League and is one of the best-known clubs in the country. Competing as one of the eight clubs in the Cambodian Premier League, the team finished fifth in 2022. NagaWorld FC also won a pre-season tournament at the Cambodia Airway Cup in February 2022.
The youth teams of NagaWorld FC participated in tournaments organised by the Football Federation Club. The U-18 team reached the quarter-finals of the U-18 Tournament while the U-15 team finished fourth in the U-15 Tournament.
Football Development Programme in Kampong Speu
The Football Development Programme aims to raise the professional coaching competency of football coaches in Kampong Speu. The programme is estimated to benefit almost 78,270 students and 120 teachers. Launched in 2018, the programme kicked off with a D-Licence (grassroots) coaching training course for 120 sports teachers from all 93 secondary and high schools in Kampong Speu. The top 14 sports teachers progressed to the C-License training where they were taught advanced coaching techniques up to the professional level.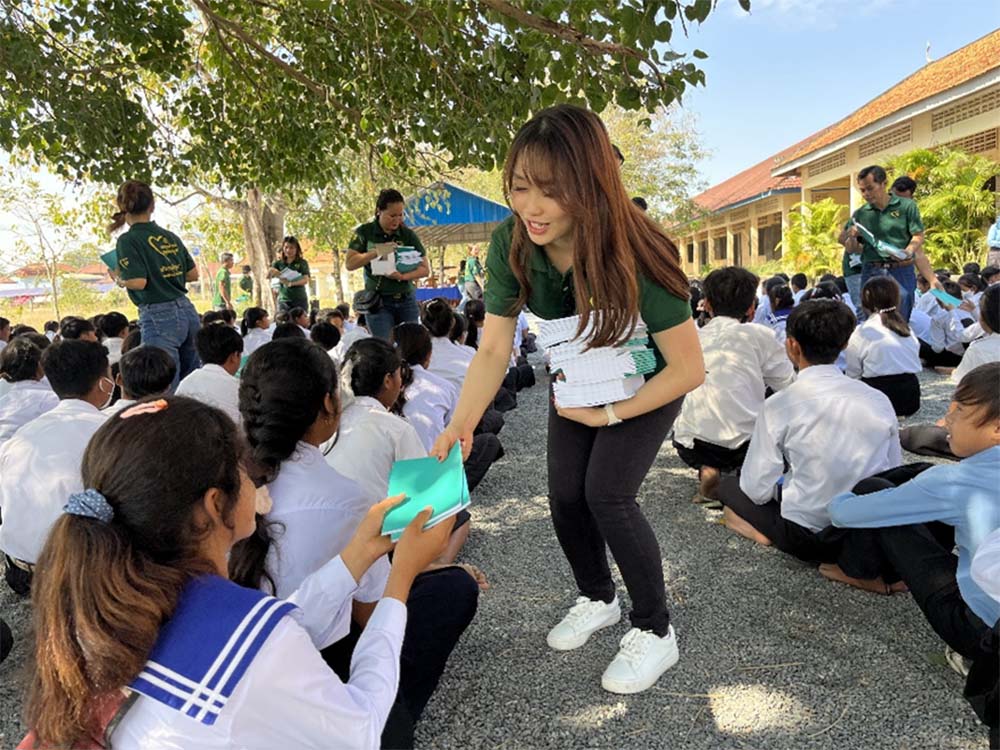 Football Training Programme with NGOs
Besides professional playing, NagaWorld Kind Hearts also uses football to engage youths in sports. In 2022, a football training programme was conducted for around 60 children from various NGOs such as Cambodian Children's Fund, Happy Tree Social Service, Charity Association Helping Cambodia's Children Happyland and Agape. It was conducted by NagaWorld FC Technical Director, Jose Alves Borges, Head Coach, Khim Borey and Forward Kouch Sokumpheak. Both the coaches and children enjoyed an active day of fun and camaraderie together.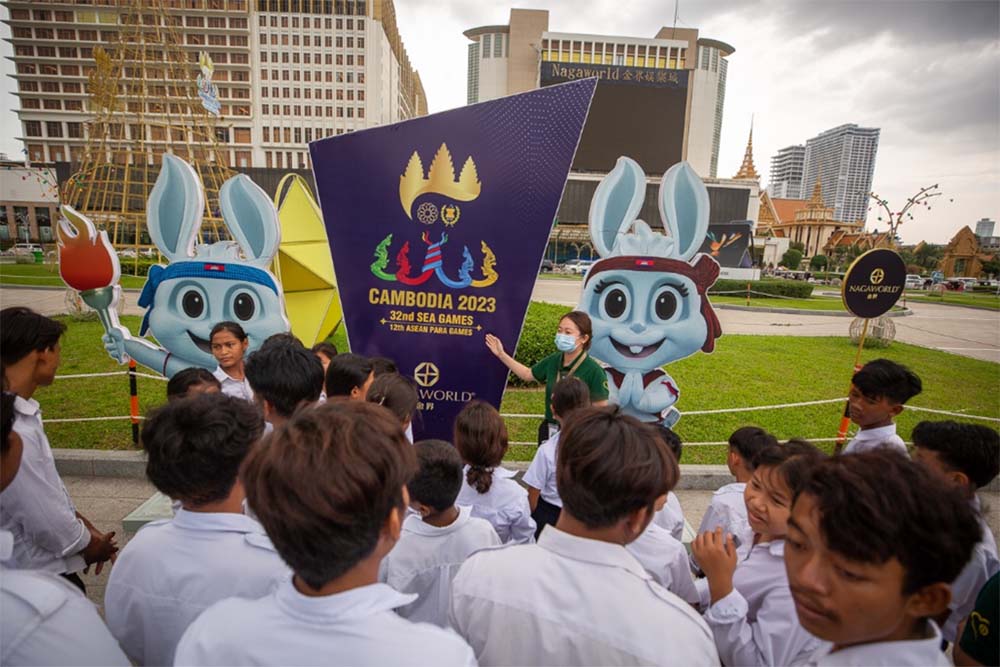 Inauguration of Kampong Speu Stadium
Supported by a US$2 million donation from NagaWorld in 2019, the Kampong Speu Stadium was officially unveiled on 6 September 2022. With a seating capacity of 2,500 spectators, the stadium will help boost the development of football and other sports in the Kampong Speu community, and host all of NagaWorld FC's home games.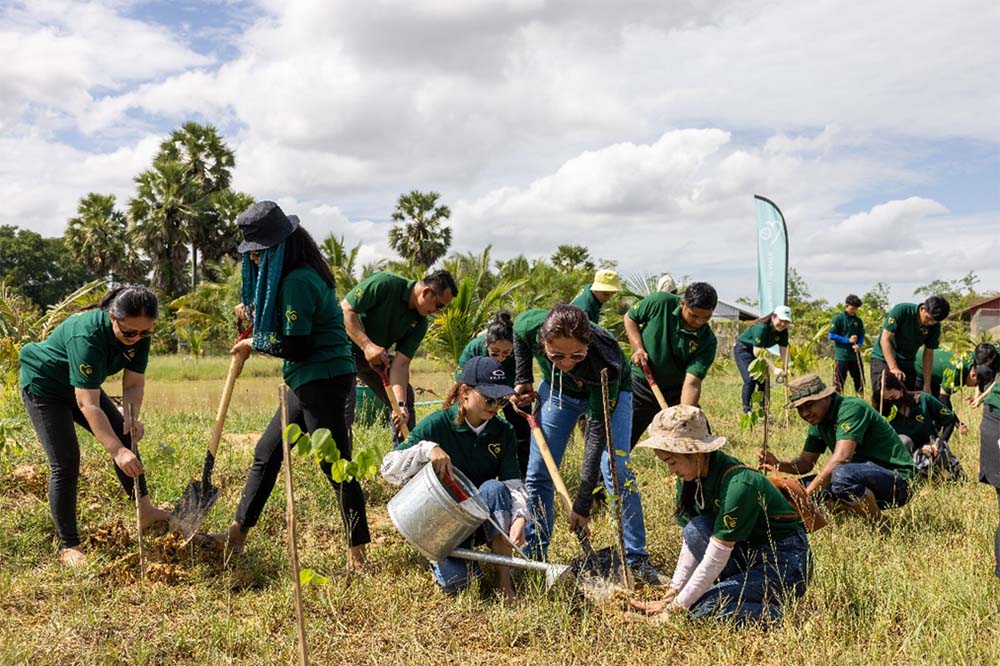 4. Environmental Care
Community Cleanup 2022
In support of Cambodia's effort to create a cleaner, healthier and tourist-friendly destination, NagaWorld Kind Hearts has been supporting the Historical River Cleanup Mission – launched in March 2022 and jointly organised by River Ocean Cleanup and everwave GmbH. At the Community Cleanup Project, together with other volunteers, our NagaWorld Kind Hearts volunteers contributed to collecting 653kg of trash from the Chroy Changvar district.

World Cleanup Day
30 NagaWorld Kind Hearts volunteers participated in World Cleanup Day on 17 September 2022. World Cleanup Day is the biggest civic action combating the global waste problem with millions of volunteers across 191 countries. Collectively, 272kg of trash was collected from the streets of Chroy Chongvar by our volunteers.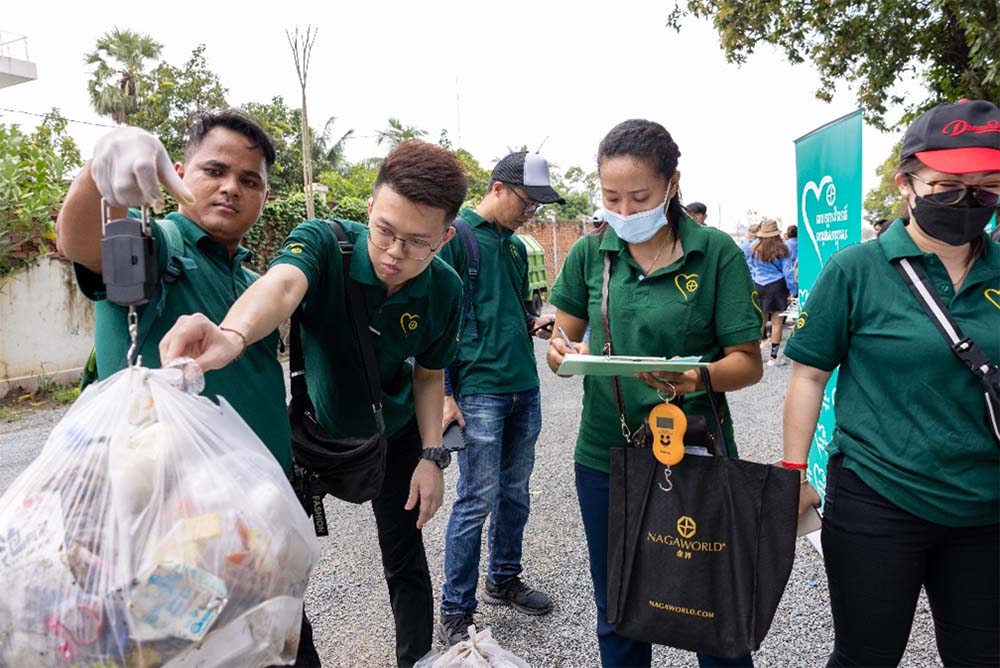 Best Practices to Reduce Waste
Together with Little Green Spark, a zero-waste and eco-consulting firm, and the OSHA department, NagaWorld Kind Hearts organised an environmental sustainability workshop over multiple sessions. It aimed to raise awareness of the negative impacts of waste, including single-use plastics. The workshop was attended by 115 NagaWorld employees and representatives from eight NGOs in Phnom Penh.
Upon completion, all attendees were appointed as Green Ambassadors and are encouraged to share what they have learned with their colleagues and communities, including students at 60 primary schools through our "School Outreach Programme".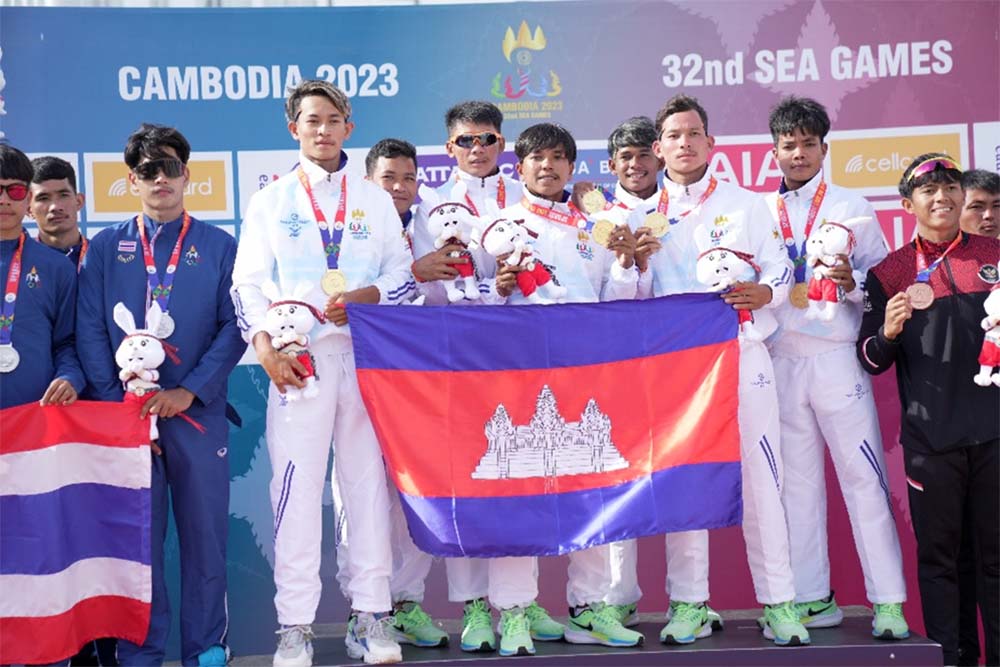 Soap for Hope
Launched in 2017, we support the "Soap for Hope" initiative to recycle used hotel soap by diverting them from landfills, providing alternative livelihoods to marginalised communities, and raising hygiene standards. To date, over 1,460kg of used soap were recycled and distributed to 458 needy families.
Digital Waste Cleanup 2022
Digital Waste Cleanup is a global movement that aims to reduce global carbon emissions by deleting unnecessary files and applications on computers and mobile devices. Since 2021, we have been supporting this initiative by calling for our employees to participate in this digital uncluttering exercise.
In 2022, together with 198 volunteers, we cleared 2,108 gigabytes of cloud data, equivalent to 109kg of carbon emissions.
Slaprea 2022
NagaWorld continues to support "Slaprea 2022", the biggest food festival in Cambodia, by educating the general public about waste management as well as health and personal hygiene awareness. We provided bin signages at the venue to encourage waste segregation. Close to 60 employee volunteers shared best practices on waste management to promote a cleaner environment including the 3Rs (reduce, reuse, recycle). They also advocated for civic mindedness and hygiene by encouraging festival-goers to clean up their trash and wash their hands.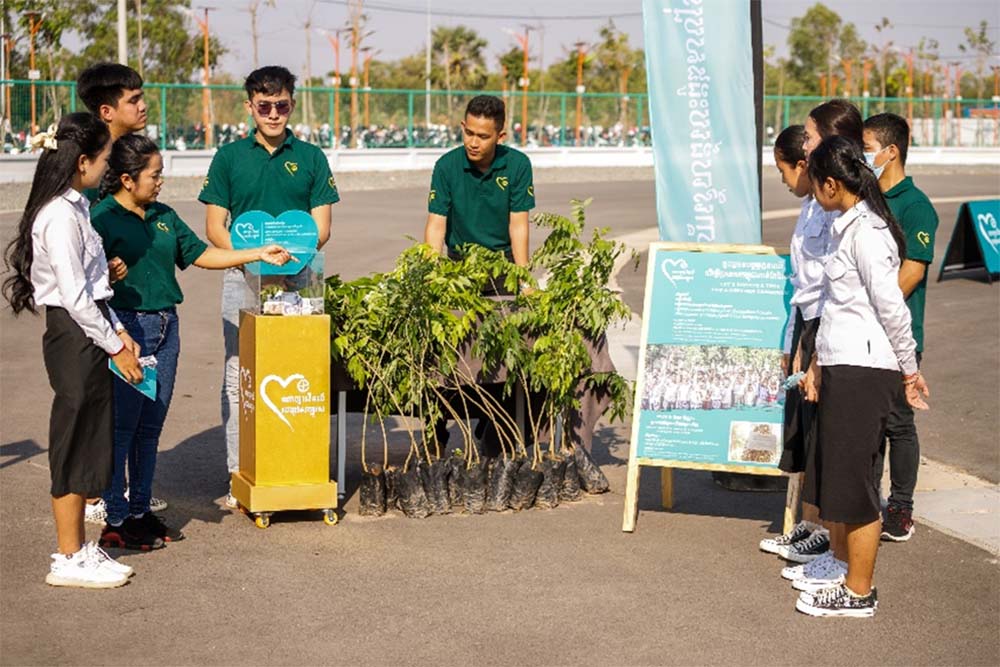 Repurposing Items
Through upcycling, NagaWorld Kind Hearts organised donations of repurposed items, including clothings, wheelchairs, kettles and cups to Phnom Penh-based NGO, Bright Hope Cambodia.
Another environmentally-friendly initiative by NagaWorld Kind Hearts is the Bed Linen Upcycling Programme where old hotel bed linens were washed and turned into reusable cloth bags. The bags are used for carrying study materials to school or shopping from the market, helping to eliminate the use of single-use plastic bags. Our employees volunteered about 600 hours turning old hotel bed linens into 300 tote bags for kids at four NGOs – Bright Hope Cambodia, Cambodia Community Children's Home in Phnom Penh and New Hope for Cambodian Children at Kampong Speu Province, and The Sharing Foundation at Kandal Province.

Earth Hour 2022
During Earth Hour 2022 in Cambodia, we turned off non-essential lighting and other electrical appliances at our premises. More than 120 of our employees also pledged their support to Earth Hour by switching off lights at home.
No Plastic Straws, Please! Campaign
Our staff canteens have stopped using plastic straws since June 2018 and single-use plastic straws were removed from our operations since the beginning of 2019. NagaWorld eliminated around 3.17 million straws in the first year of the campaign. This commitment has been upheld through the years.