In 2023, NagaCorp appointed Political & Economic Risk Consultancy, Ltd. (PERC), an independent third party from the Company, to conduct a research and review on investment risks in Cambodia. Established in 1976, PERC is headquartered in Hong Kong and engaged principally in the monitoring and auditing of country risks in Asia. From this base, PERC manages a team of researchers and analysts in the ASEAN countries, the Greater China region and South Korea. Corporations and financial institutions worldwide use PERC's services to assess key trends and critical issues shaping the region, to identify growth opportunities, and to develop effective strategies for capitalizing on these opportunities.
In the research, political, social, investment and macro-economic risks in Cambodia were assessed and reviewed, particularly as they relate to NagaCorp's casino, hotel and entertainment business operations. In arriving at its findings below, PERC took into account, among others, domestic political risks, social instability risks, institutional weaknesses, human resource risks, infrastructure risks and external political risks.
Based on the assessments and reviews carried out between mid-November 2022 and the end of December 2022, a summary of PERC's findings is portrayed below for your reference: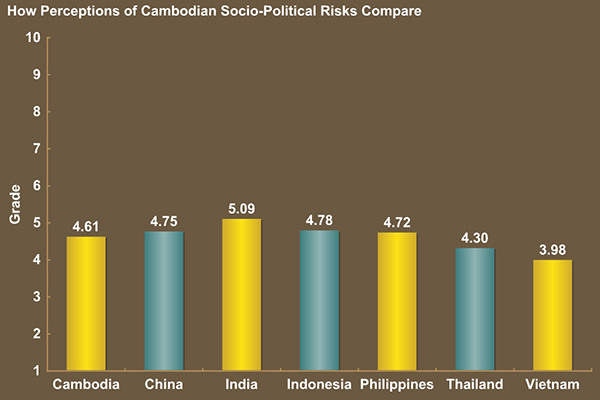 Grades range from zero to 10, with zero being the best grade possible and 10 the worst.
PERC quantifies investment risks in Cambodia through the measure of the following variables:
Domestic political risks
Social instability risks
Institutional weaknesses
Human resource risks
Infrastructure risks
External political risks
Each of these variables is made up of several sub-variables relating to specific aspects of the category being assessed. The weighted sum of the grades for sub-variables equals the score of a broader variable, while the weighted sum of the grades of the broad variables defines overall investment risks in Cambodia. PERC has treated each variable as having equal importance or weight.
Summary
Last year was better politically and economically than 2021, and 2023 should be better than 2022. Real GDP growth has been accelerating, supported by an upturn in export demand and a recovery in domestic consumption. Tourism is also growing again, improving conditions for services like restaurants, hotels, and many retail businesses.
Still, overall growth will remain below prepandemic levels for another one or two years. In addition, construction and several categories of real estate, such as luxury condominiums and office premises, are undergoing corrections. As a result, instead of leading the economy's expansion as they did in the years immediately preceding COVID, these industries were a drag on the economy in the second half of 2022 and are likely to remain so in 2023.
Deposit growth has slowed faster than credit growth. This has raised banks' loan-todeposit ratios to levels where a correction is now due. Consequently, the rate of credit expansion is likely to slow considerably in 2023 as banks become more cautious, especially in lending for construction and specific categories of real estate. In addition, the growth of household consumer and mortgage loans could slow, while the high levels of household debt could limit the increase of private household consumption.
The good news regarding tourism is that the total number of foreign visitor arrivals increased sharply in 2022 and is likely to keep growing in 2023, with visitor arrivals from Mainland China finally picking up. The improvement in tourism that has taken place to date reflects a diversification in the sources of foreign visitors to Cambodia, with the increase in visitors from other ASEAN countries growing especially rapidly.
The one significant exception to this is Mainland China, Cambodia's largest single source of foreign tourists before the pandemic but now down to the third position. However, conditions should improve in 2023 since Beijing has recently announced its intention to resume travel into and out of the country. Still, this liberalization will be gradual. Moreover, a shortage of flights and other capacity constraints will have to be overcome before the total number of Cambodia's inbound visitors from China recovers to pre-pandemic levels.
Politically, Cambodia has moved in the direction of improved stability. Although general elections will be held in the middle of 2023, there is little doubt about the outcome. The ruling party will win a large majority. Hun Sen will be reappointed prime minister, but he will take more steps to prepare the country for his retirement in a few years.
Three reasons political risks have decreased over the past year: First, support for the government headed by Prime Minister Hun Sen has increased due to the widespread perception held by the general population that it managed the COVID crisis well. Second, legal challenges and internal divisions have weakened the political opposition. As a result, it is in a very poor position to win many seats in the next elections. Third, Hun Sen has laid the ground for his eventual succession by his son, Hun Manet. This has reduced succession uncertainties and raised confidence in the business community and among foreign investors that there will be policy continuity.
Cambodia's diplomatic relations have improved. The country's most substantial bilateral relationship is with Mainland China, while its most critical multilateral relationship is with ASEAN. Cambodia has also signed a free-trade agreement with South Korea and plans to increase bilateral engagement with Japan. In addition, US President Biden's November 2022 trip to Phnom Penh helped stabilize Cambodian relations with the US. It reduced the risks that Cambodia might be caught in the middle of increased geopolitical tensions between China and the US.
Positive Developments
The pandemic has been a test of fire for Cambodia. The country has demonstrated its ability to preserve social and political stability during booming economic times as well as when the economy is suffering a painful recession that has strained virtually every sector. There is now greater confidence in the country's stability, the system's ability to absorb shocks, and the leadership's capability to steer the country through difficult periods.
Now that China is starting to permit foreign travel, Cambodia is positioned to present itself as a nearby destination that will welcome the return of Mainland visitors, in contrast to some destinations like Japan that will initially have procedures to screen visitors from China for COVID that Beijing considers unacceptable.
Stable social and political conditions should make attracting foreign tourists and direct investment in different services and export-oriented industries easier. In addition, personal security today compares favorably with other countries in the region.
National elections scheduled for mid-2023 are unlikely to produce any unsettling surprises. The ruling Cambodian People's Party will win a majority of seats. Hun Sen will be reappointed as prime minister. He will take the opportunity to reshuffle his Cabinet, bringing in a number of well-educated younger leaders as his ministers.
Cambodia benefits from the shift of garment and other export-oriented manufacturing out of China. This attracts more investor interest from China, Singapore, Japan, South Korea, and Taiwan and more buyer interest from the US and EU countries. COVID accelerated this shift, but it should continue even with COVID diminishing as a factor.
The recovery of the economy and the decline of COVID as a problem have given the government the space it needs to curb its spending and increase its revenues. As a result, the fiscal deficit, which had shot up during the pandemic years, should start to contract.
The Challenges
The country's institutions are young and weak. They are improving, but Cambodia's economy grew so rapidly for so long before the pandemic that the demands on many institutions outstripped their ability to meet those demands. The pandemic presented a new set of institutional challenges, particularly in the health and education sectors.
The main external challenges for Cambodia in 2023 will be high US interest rates and the possibility of weaker US demand for imports from Cambodia, the continuing fallout from the war in Ukraine, and China's continuing weak economic growth.
Tourist-related services are being held back by the lack of visitors from Mainland China, which had been the largest source of tourists before COVID. China's current policies are restricting visitor inflows to Cambodia. However, these restrictions are starting to be modified. It would not take much of an increase in visitor outflows from China to test the capacity limitations of infrastructure. The more significant challenge in 2023 and beyond will be to expand the Cambodian travel and tourism industries' capacity to cater to the additional demand while absorbing the higher costs of extra sanitation and safety precautions that foreign travelers will be expecting.
Cambodia is experiencing significant real estate and construction downturns that will probably intensify in 2023 and create challenges for other industries like banking and finance. As a result, banks' non-performing loan ratios are likely to increase, suggesting a drop in credit quality.
The large size of the current-account balance of payments deficit will remain a challenge. Although the shortfall is likely to decline in both 2022 and 2023 from the peak hit in 2021, it will remain large by Cambodia's historical standards.
Cambodia faces two significant infrastructure challenges. One is that the pace of construction is falling behind schedule on important projects. The other is the high cost of energy and logistics. It is expensive to bring goods into and out of the country, store them in warehouses, and pay for vital inputs like energy.