NURTURING OUR PEOPLE
Cultivating a skilled and adaptive workforce is essential to remain competitive and support NagaWorld's growth. Retaining and developing our people, looking after their well-being, and ensuring we have an engaged workforce, remain vital levers of our human capital development strategy.
Our human capital development strategy creates alignment around our people, processes, and operating philosophies. We embrace a four-step framework to develop our human capital – Start With Us, Engage With Us, Grow With Us and Stay With Us.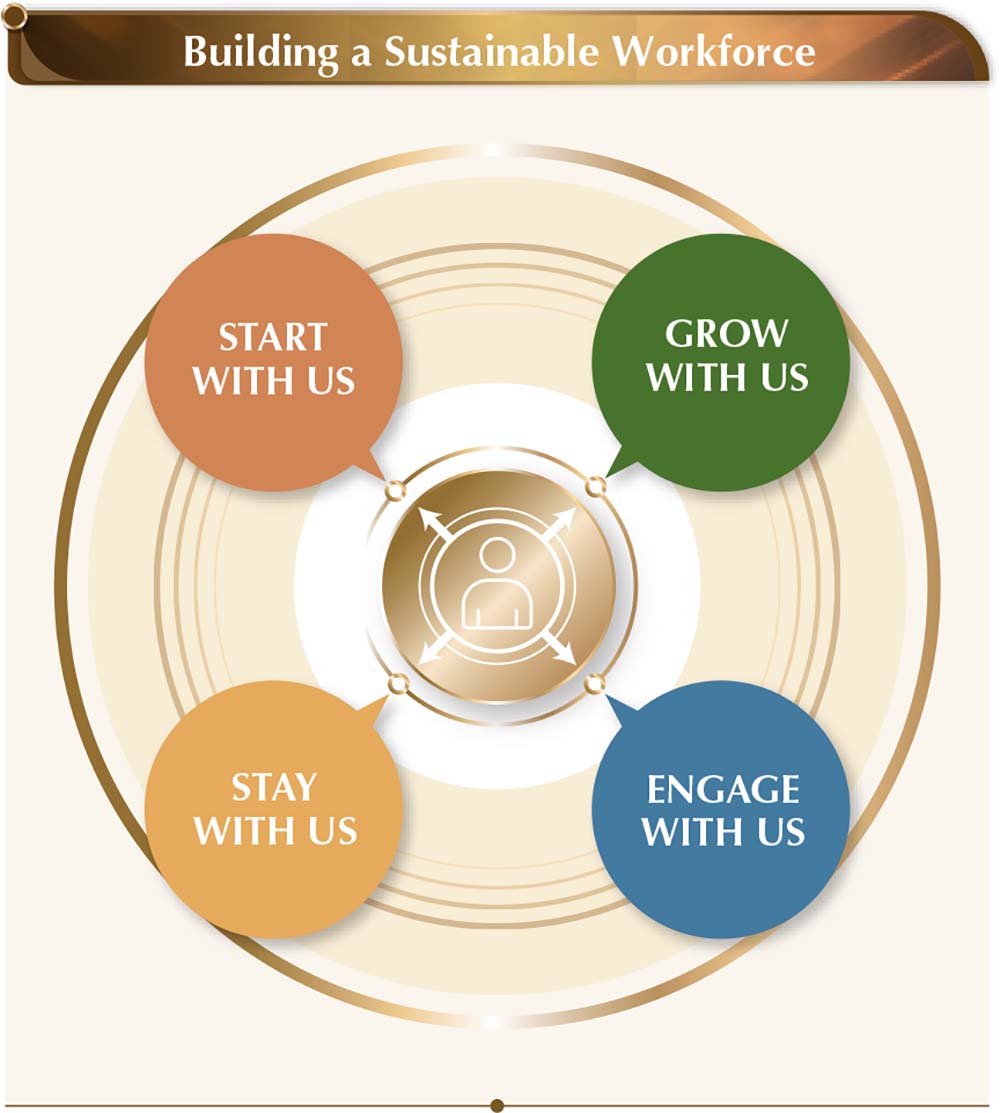 1. Start With Us
NagaWorld complies with all relevant laws and regulations on employment set out in the Cambodian Labour and Employment Law. The law requires the Company to be responsible for providing a comprehensive legal framework for employment contracts executed in Cambodia, governing an employment relationship between the Company and employees regardless of age, race, gender, religion, social status, sexual orientation, marital status, or disability. The law also provides protection for Trade Unions and Shop Stewards and prohibits all forms of discrimination in an employment. We have a zero-tolerance stance towards child and forced labour.
As of 31 December 2022, we had a total staff strength of 6,398; of which 93% are Cambodians and 7% are expatriates. Our culturally-diverse workforce is formed of 35 nationalities. By gender, our workforce is fairly balanced. Women comprise 53% of our workforce while 47% are men. For manager and above positions, women form 33%.
In 2022, we hired 822 employees. 94% of new hires were Cambodians and 6% were expatriates. We held weekly walk-in recruitment fairs at our NAGA Academy, where young applicants can submit their resumes, be interviewed on the spot and be matched to a job opening. In 2022, an average of 70 job-seekers participated in the weekly recruitment fair.
2. Engage With Us
We recognise employee engagement as a critical driver of business success in today's competitive marketplace. We aim to improve efficiency in the workplace, encourage feedback and improve communication. In 2022, the Human Resources department organised a lineup of employee engagement programmes to encourage interaction between departments, focus on employee well-being, and accord recognition.
2.1 Leadership Breakfast Series
Inaugurated in May 2022, we held five Leadership Breakfast sessions in 2022. Staff of various grades across departments engage in open and lively dialogues with senior managers on pressing topics impacting their daily operations and provide suggestions on improving processes.
2.2 NAGA FM235
Every week, departments such as Corporate Social Responsibility (CSR), Fire Safety, Occupational Safety and Health Administration (OSHA), Hygiene and Training and Development present educational topics or company announcements at the staff cafeterias in Naga 1 and Naga 2. Employees participate in quizzes and win prizes alongside the fun and games. This edutainment "live" channel is one of the ways we foster new bonds and improve communication across the Company.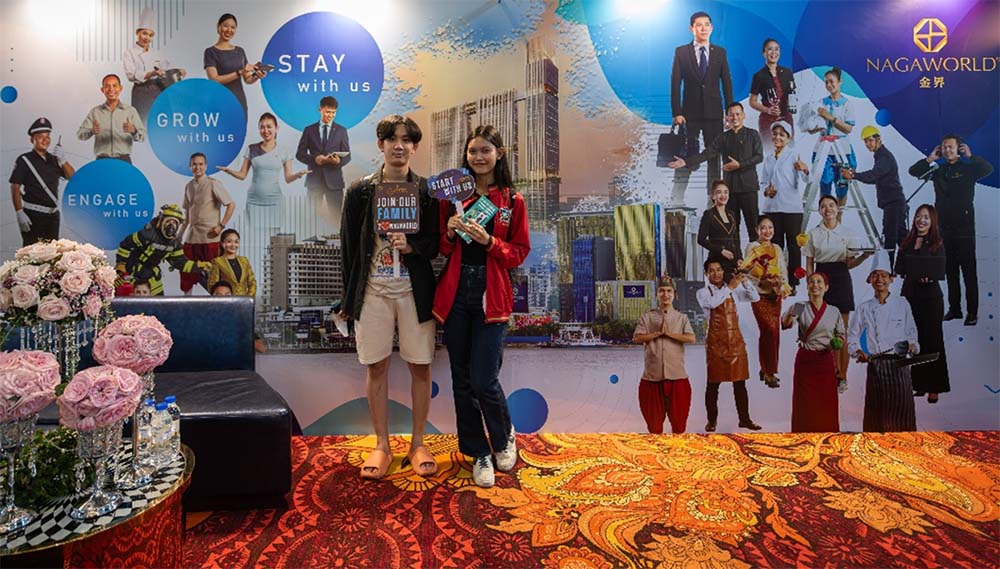 2.3 NagaWorld Children's Day
On 30 June 2022, around 200 employees brought their children to work for "Take Your Child to Work Day". Our employees had an enjoyable day showing their children around their workplace and what they do for work. We arranged meals and a series of activities to enrich and entertain the children.
2.4 NAGA Sports Challenge – Badminton
NagaWorld's inaugural badminton sports challenge received an overwhelming response from our staff. Beyond the competitive nature of the event, it brought staff closer to each other where they celebrated each other's successes regardless of their scores. The final match was telecast "live" on MyPortal, our staff intranet, and at the staff cafeterias in both Naga 1 and Naga 2. The event clocked an audience of around 1,500 online viewers on MyPortal.
2.5 NagaWorld Got Talent
The talent competition celebrated the singing and dancing talents of our employees. Around 1,000 staff attended the finals of the talent competition to support their colleagues and favourite contestants. To honour the dedication of the finalists in bringing joy into our hearts and to encourage their passions, no finalists left the stage empty-handed. Special prizes – MyPortal People's Choice Award, Darling of the Crowd, and Best Supporters' Choice – were also awarded to the deserving winners.
3. Grow With Us
To enable our employees to stretch their potential and attain their career goals, we developed a comprehensive employee training development programme to strengthen the skills of our workforce and to build up knowledge where it is lacking. Our Training Roadmap is a suite of mandatory programmes for the four employee categories – Support staff, Supervisor, Executive, and Assistant Manager and above and aims to equip our employees with the necessary knowledge to succeed in their roles.
In the face of COVID-19, we adapted our learning and development practices. Our changing business needs have further accelerated towards online and hybrid learning. Employees can find a range of other courses on their work-related needs at NagaWorld's Learning Management System. In addition to easy access and scalability, our staff can track their learning performance and progress.
As of 31 December 2022, our workforce, including Executive Training Programme staff, achieved 255,013 training hours. On average, each employee received 40 training hours during the Year.
4. Stay With Us
4.1 Remuneration and Benefits
We provide competitive remuneration that is merit-based by performing annual benchmarking exercises. We believe in equal remuneration where employees are remunerated equally for work of a similar nature, regardless of their gender. To attract and retain talent, we continuously review the employee benefits and opportunities that we provide. Benefits that go beyond regulatory requirements include:
90 days of fully-paid maternity leave; above the legislated 50% wage entitlement
Free medical care through two dedicated in-house clinics
Free laundry and dry cleaning services for work attire
Language enhancement courses and incentives
Naga Mart, a not-for-profit supermarket where employees can purchase daily essentials below market prices
The Company is in compliance with the Cambodian Labour Law in ensuring a regular work week is not exceeding 48 hours. All overtime work must be consensual and not requested on a regular basis.
4.2 Labour Relations
NagaWorld respects the right of all workers to join a trade union of their choice without fear of intimidation or reprisal, in accordance with Cambodia's Labour Law. We put in place non-discriminatory policies and procedures with respect to trade union organisation, union membership and activities such as applications for employment and decisions on advancement, dismissal, or transfer.
In 2022, 23% of employees were unionised, where the union is legally registered with the Ministry of Labour and Vocational Training.
4.3 Employee Turnover
As of 31 December 2022, the Company had 605 employees turnover (2021: 775). The attrition rate for the Year was 9%.